The latest DLC for Mass Effect 2 is Kasumi - Lost Memories, which as the trailers suggest, gives players a new character. Kasumi is an expert thief and has stolen many a valuable item from countless tightly sealed fortresses without the slightest bit of trouble. In the DLC, however, she comes across as nearly useless, what with most of the first half requiring Shepard to do the work, and during combat, she can go down pretty quickly.
SPOILER ALERT! Skip the next paragraph if you do not want to know the plot of the DLC!
The main reason she and Shepard are even meeting up is to break into a vault holding valuable information, which just so happens to be owned by the man who murdered Kasumi's close lover. Through a few poorly executed,
implied
sneaking sequences, Shepard gains access to the vault, and then the fight back out begins.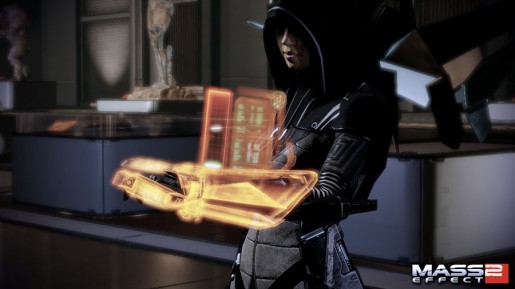 The DLC in its entirety takes about twenty minutes to beat at the least and gives the player
1
achievement. The quantity of the DLC itself is pretty slim especially considering once she is aboard the Normandy, it seems impossible to speak to her. To the DLC's credit, it is nice to add a new character that players can take from beginning to end and get a different experience than before. Overall, even with the DLC being 560 MS points, it almost seems that Bioware threw a price on it just because of the achievement, considering nothing else here really justifies a price. Not even the pointless flashbangs.
For a new character, a twenty minute mission, and an achievement, a 560 point price tag still seems unfair to DLC that would have been perfect were it free. Sure, the combat is fun, but the process to it will become a tedious rush through dull and uninteresting conversations. Thus, there are two verdicts for the DLC. If players really want to add another character to use, and plan to beat the game at least one more time, the price tag is
just
barely worth it. Otherwise, for those that just want to check out the DLC, stay away from it. It's not worth the twenty minutes.
Personal Opinion
I really wanted to enjoy this DLC, considering I've awaited it's arrival all weekend, but I actually felt that I just might have wasted $6 on DLC which really should have been free. I could have done without the achievement in all honesty. Perhaps, if Bioware had made Kasumi's character with greater depth, and the first sequence of the DLC more entertaining, I might have felt it deserved the price. Unfortunately, with a paper-thin character who is practically useless in battle, and a poor story to accompany her, Kasumi just was not worth my time, or money. I probably will beat Mass Effect 2 again, but I probably won't use Kasumi.

alexoblivion

W.T.F!?





Number of posts

: 149


Age

: 29


Location

: Grand Bay


Humor

: Laugh dammit!


Registration date :

2008-12-25




---
Permissions in this forum:
You
cannot
reply to topics in this forum