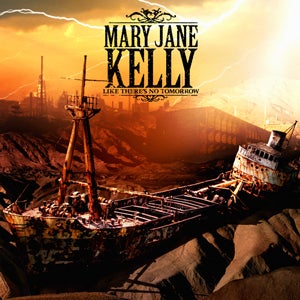 Tracklisting:
1. Intro
2. Pigs Of Gluttony
3. Wallflowers
4. Hell In Gold Leaf Palaces
5. The Imprecision Of My Dimensions
6. Broken Hips, Burnt Cigars
7. With A Bang To Mute Our Whimpers
8. Filthy Lucre
9. If God Were Here...
10. Weak, Corrupt, Worthless & Restless
11. It's Just The Abyss
Hardcore/Punk/Metal
Purchase
Myspace
Band Members:
Justin Bortignon - Vocals
Matt Velozo – Guitars
Jam Salem – Drums
Brendan Dive – Bass
Ok, today I am reviewing Mary Jane Kelly's debut CD Like There's No Tomorrow.
First off, I apologize for the last review; it truly was a shitty review but meh, anyways on with the business at hand.
The first thing I thought when I listened to this album was "holy shit this is horrible". I mean I honestly thought this was maybe a demo or EP, but no, this was a full-fledged studio recorded CD. This means it was suppose to sound like this. Intriguing. So after listening to it for a good number of days straight, I have come up with the following conclusion:
This. Is. A. Great. CD.
I honestly have very few complaints about the CD in all honesty. The overall feel of the CD is real raw and has a powerful feel to it. The way the vocalist sings is actually a blessing for this band. Justin Bortignon sounds unprofessional and not well trained, but he really pulls of that sense of "GET THE FUCK AWAY, if you would please" sort of voice. I truly enjoyed listening to him sing.
Not to forget about the rest of band; Matt Velozo – guitars; Jam Salem – drums; Brendan Dive – bass, all these guys add a great touch to the music that gives it that extra flair of greatness. To get a glimpse of this, just listen to the Intro track, nicely titled "Intro".
My only real complaint would be that they only have one song ("The Imprecision Of My Dimensions") in which they sing melodically in part of it. In all honestly they could get away with one or two whole melodic songs and still be a heavy band. But even without them the CD is still great and the vocals help big time. The raw sound that is produced works well compared to other CDs that have them (intentional or not). Also the album is short (29 minutes long). This isn't that bad but I really wish it was longer.
So, in short, for a debut album the CD is a great start and I hope they keep it up and do more great work.
I give this CD 4

out 5

_________________
Twitter
Youtube


Similar topics
---
Permissions in this forum:
You
cannot
reply to topics in this forum